In today's digital world, businesses need an appealing,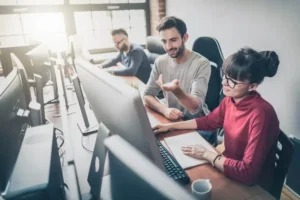 competitive website to survive. Furthermore, keeping a website up-to-date involves unique skills and knowledge. This includes writing code in different computer languages, designing user interfaces, establishing website security, optimizing performance, and more. Additionally, you also need people with good writing, editing, and design skills. After all, unless you're an IT or software company, you might not have employees on your payroll to accomplish all these tasks.
Here are three reasons to outsource your website design work to a business process outsourcing (BPO) company:
#1: Focus on Core Competencies
Notably, when you focus on your business's main strengths or skills, your resources and capabilities can lead to competitive advantages. To explain, let's examine the meaning of "resources and capabilities" and the phrase "competitive advantage."
Resources are assets your business needs to function, such as money, materials, people, computers and other equipment, value of a brand, and intellectual property. For instance, according to Investopedia, an asset is something you can use to create a steady stream of money, reduce expenses, or improve sales. When you think of assets this way, you can immediately grasp the importance of understanding your company's assets.
Business capabilities are the abilities you have as a business, although they are also more than that. They are what you are proud of your company for and how you sell yourself as a business. Your people, processes, and technology help you achieve these. Correspondingly, a Harvard Business Review article lists eleven capabilities that well-respected profitable companies have in common:
Talent
Speed
Common thinking style and consistent brand image
Accountability
Collaboration
Learning
Leadership
Connection with customers
Strategic unity
Innovation
Efficiency
Focus on your company's assets and capabilities. In light of this, will you be able to develop existing talent, or will you need to buy, build, or borrow new talent through alliances or partnerships? You may need help with your website and other design work while you focus on what you do best.
To demonstrate the need for outsourcing, let's say you have an excellent idea for a new product. Will you patent your product's design? If so, you might need a patent attorney. Do you need to apply for a commercial loan to purchase or lease more space for inventory? Subsequently, will your loan-to-value ratio qualify you for a good, low loan interest rate? You might hire an accountant to help with the loan application and a real estate agent to acquire the space. In other words, you hire experts. If website design is not one of your company's core competencies, don't focus on it. Let others do it for you.
Working with PEAK Outsourcing to design your website while you focus on strengthening your company's core competencies can give you a tremendous competitive advantage. You can reduce costs, create value for your customers, attract more customers, distinguish your products and brand from your competitors, and free yourself to design and develop new products and services.
#2: Access to Expertise
Similarly, as global web design experts, PEAK Outsourcing has given large and small companies competitive advantages over their rivals. We provide services to marketing, advertising, sales, medical, and professional enterprises. Significantly, our team's expertise is world-class. We recruit and train top talent from around the globe to become real experts in your app or software. Team members are always ready to assist customers no matter what user experience obstacle or technical issue arises. We're passionate about making a difference for our customers.
#3: Cost Savings
Cost savings are the number one reason many multinational companies outsource their business tasks, such as web design, to companies like ours operating in the Philippines. The savings are made possible by support from the Philippine government's business-friendly policies, regulations, and incentives. For example, the Philippine IT-BPM Roadmap 2028 affirms its commitment to support the outsourcing industry with 2.5 million workers and to grow the sector to US $59 billion.
At PEAK Outsourcing, we've devised a cost-effective solution to your web design needs. Our unique outsourcing partnership approach tailors solutions to your specific needs. This consistently results in cost savings, customer satisfaction, and a competitive advantage for your company.
Work with PEAK Outsourcing for Your Web Design Needs
The more time you focus on your core competencies, the sooner you can develop a competitive advantage. The skilled professionals and business solutions experts at PEAK Outsourcing can use their specialized expertise to design a website unique to you and your customers. We have almost two decades of demonstrated hands-on experience. You've made your business the success it is today. Where will you take it tomorrow? Contact our team today!
Related Posts: