Deciding whether to outsource your web design and content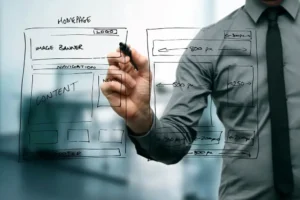 to a business process outsourcing (BPO) company requires careful consideration. Many businesses don't have the time or resources to hire in-house employees to develop and maintain a website. Outsourcing might be the best option to drive traffic to your website, increase engagement, and turn visitors into actual customers.
Below are the benefits of outsourcing your website to a BPO company.
Cut Costs
Outsourcing is a cost-effective way to build a website, create engaging content, and expand your online reach. You might think the upfront cost of hiring a BPO company isn't affordable. However, hiring a third party to handle necessary tasks will save you money on employee compensation packages, training, and office equipment.
Websites require ongoing work. You can't build a website and walk away. You must frequently update it to attract new visitors and engage your audience. That means you need an experienced team to handle the day-to-day responsibilities. Instead of paying in-house web designers to manage your site, a BPO company can take over. Since you're not paying an employee, your budget opens up to other aspects of the company you care about most.
Access to Talented Professionals
Outsourcing gives you access to talented staff. When you hire someone to work in your office, there's a chance they won't deliver on their promise. Some employees need training to learn about the industry and your product or service. That takes time you might not have to grow your business.
A BPO company has a pool of specialists already experienced in your job industry. They know how to create websites that draw the attention of your target audience and provide the information potential customers want to know. They don't need training because they have already completed the necessary training to complete the projects companies hire them to do.
Scalability
Outsourced website designers, content writers, and experts can scale projects more efficiently. When you hire a BPO company, they will provide a team already proficient in the tasks you require for your website. If necessary, they can add more team members to increase efficiency so the project doesn't take longer than it should.
In-house departments require resources that business owners often can't afford. Your outsourced team already has resources, so you don't incur additional costs.
Reduce Stress and Risks
Outsourcing your website allows a highly-skilled and knowledgeable professional to lead the team while reducing risks. They can oversee every aspect of the project to ensure the web designers and developers stay on schedule and avoid mistakes that lead to unnecessary issues with the functionality of your website.
Outsourcing also eliminates stress within your company. Some employees have multiple responsibilities, especially when a business is in the beginning stages. Multi-tasking creates stress. Hiring a BPO company allows employees to focus on essential parts of their jobs without worrying about juggling multiple responsibilities.
Use Your Skills
As a business owner, it seems like there aren't enough hours in the day to complete everything you want to get done. Handling your web design or content creation takes you away from more pressing responsibilities. You might not have experience working with websites and spend significant time researching and learning new website development skills.
Outsourcing your website allows you to enjoy the reasons you started a company in the first place. Instead of feeling frustrated by a job you don't know or have time to do, you can focus on your core competencies. You have the ability to devote yourself to operations, sales, and other aspects of the job you love and have confidence doing.
Access to Technologies
In-house web design is complex. Many companies don't have access to the technology necessary to build beautiful websites with engaging content. Analytics are essential to maintaining a successful website but can be costly. However, a website outsourcing company has the latest technologies to help your website thrive among competitors.
An outsourced team can use the available data to determine the content most effective at increasing views and what parts of the website need tweaking. They can frequently analyze user engagement, conversion rates, and other metrics to improve a person's online experience and turn potential leads into paying customers.
Take Your Website to the Next Level with Effective Outsourcing Services
At Peak Outsourcing, our team of qualified and knowledgeable web designers can provide the services you need to create a website suited to your needs. We deliver quality website designs with compelling and engaging content.
Call us at 833-831-7325 or complete our online contact form to learn more about our outsourced website design service.
Related Posts: