BPO and outsourcing got their start with data centers and large computer systems. A more streamlined and technological approach is replacing the traditional method. Artificial intelligence is more prominent and allows machines to complete outsourcing projects. However, outsourcing is beneficial for the same reasons now as it was before. It provides more efficiency and cuts down on costs. Because our job is to get you the best resources possible, we conduct thorough research into which groups can create the high-ranking content you need. One of the benefits of outsourcing content writing is that it lets you use experts who know what they're doing. This makes sure your writing is good, interesting, and related to what you need, making everything work better overall.
Increase Traffic with Concise Content
Specialized content can benefit outsourcing businesses in multiple ways, such as:
Ranking higher in search results

Increasing the customer's trust in the business

Creating a connection with the audience

Communicating the benefits and value of hiring the company

Convincing prospective clients of the company's expertise in a specific field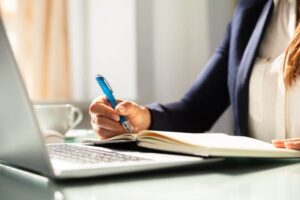 Outsourcing content creators allow you to focus on your strengths and run your business without worrying about content and copy. Instead of spending your day on tasks you're inexperienced in completing, someone else can take care of them, so you have time to handle day-to-day operations.
The professional content creators you contract will research high-ranking keywords and utilize them in the copy they write for your business. These keywords can increase your company's search ranking and generate more website traffic. They can also help your business reach the right people who will likely contact you for your services or products.
Using long-term specialized content also safeguards your company when search engines like Google change their algorithms.
The Benefits of Outsourcing Content Creation
You invest in the future of your business by outsourcing content creators. Although giving a third party the responsibility to write content might be stressful, it can save you time and money and help grow your business.
The most significant advantages of outsourcing content creation include:
Cost-effective – You cut costs by outsourcing projects instead of employing someone full-time. Typically, full-time staff and temporary workers require training to complete their jobs. Outsourced specialists already have the necessary experience and training to start working immediately. You have money to spend on office equipment and other valuable assets by freeing up your budget through outsourcing.

Faster turnaround – Hiring someone in-house for content creation means they have limited time to take on projects. They must focus their efforts on one task at a time. Outsourcing allows a third party with multiple writers to work on multiple projects simultaneously. It also improves turnaround time since more people are available to complete these projects.

Experience – Focusing on hiring someone best suited for the job is vital. When you outsource, the professionals you engage already know what they need to do and how to do it. Outsourced content creators stay updated on practices and trends, so businesses remain relevant in their industries.

Higher return on investment – Your business will receive more online traffic, leads, and engaged readers when you outsource to a professional content creator. You can maintain better visibility online and get your website in front of potential customers by hiring outsourced partners.

Content marketing strategies – Outsourcing helps you create or improve your marketing strategies. Content creators have extensive industry experience and knowledge, giving them the tools to develop appropriate content for your business.

More reach – Outsourced content creators know the ins and outs of social media. They can use various platforms to increase your visibility, draw more people to your website, and convince readers to hire you or use your products.

Range of content – When you outsource your content to a third party, it allows more freedom and creativity. Content creators can use different types of content to determine which works best for your business. They can stay on trend and consistently change strategies based on best practices.

Eliminate burnout – Handling the content for your business can be tedious. It takes you away from other essential tasks and might lead to burnout. Outsourcing lets you get back to the parts of your business you find exciting. When someone else takes over content creation, you're more productive and happier running your business. 
Contact Peak Outsourcing Today
Peak Outsourcing has helped clients take their businesses to the next level since 2011. We stay current on the most effective strategies to target a wider audience and get content in front of potential customers. When you hire us, our team tailors our services to meet your company's unique needs.
Related Posts: