You might think the hard work is over after launching your company's website. However, you must find ways to get your content in front of your target audience. Gaining new customers is challenging if you don't use methods to bring traffic to your site.
Blogging is valuable in getting your brand out there and gaining new leads. The process is straightforward and cost-effective. You can use blog posts to grow your online presence, promote your business, and create long-lasting relationships with your readers.
A blog is a series of posts about a specific topic. It can include news articles, industry developments, and other information about a company's products or services. You can use a blog to start conversations with readers or keep them up to date on changes in your industry.
Below are the primary reasons why you should consider starting a blog.
Improve Rankings on Search Engines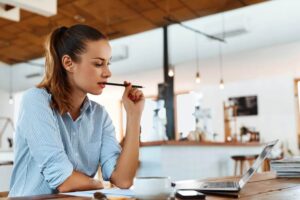 You need to rank toward the top of search engine results for your target audience to find you. Most people don't spend time scrolling through multiple result pages. If your website isn't at the top, potential customers likely won't know you exist.
When search engines evaluate and rank sites, they consider the number of indexed pages and the quantity of fresh material on websites. Whenever you publish a new post to your blog, search engines index those pages, allowing them to show up in search results and drive more traffic to your website.
You can stand out from the competition by using keyword-rich content in every blog post you create. However, increasing your ranking on search result pages requires more than publishing information. Although more indexed pages are beneficial, they won't help if your content is irrelevant. What you include in your posts must be fresh and reflect what's happening in your industry. Boring content allows readers to switch to more interesting and exciting sites.
Create Brand Awareness
You don't want to appear stiff and cold as a business. Blogging allows you to add a personal touch to your website, so potential customers get to know who you are and why you started your company. Providing engaging content that speaks to your mission and the reliability of your product or service gives readers a unique insight into your brand.
Your target audience should feel comfortable with you after reading your blogs. Effective content humanizes your business and establishes a connection with the readers. Fostering a personal relationship through meaningful content increases the chance they'll return to your website. You might also gain new customers when current customers recommend you to others.
Build Trust
Trust is critical in content marketing. Your blog posts allow customers or clients to become familiar with your business, values, goals, and services. You have a unique opportunity to convey a message to your readers that paid advertising might not accomplish in the same way.
Companies look more professional when a blog is available to provide the information readers want. An active blog can also establish a business as a leader in the industry. When your website consistently includes answers to your audience's questions, they will view you as someone they can trust.
Customers trust you when they know they can visit your blog anytime to obtain industry-related articles, news, product information, and other relevant topics. Increasing trust with your target audience makes them more likely to pick you over your competitors, leading to higher conversion rates.
Ongoing Education
The goal of a blog is to educate potential customers and convert them into viable leads. However, blogs can also educate you as a business owner. Regularly researching and publishing blog posts gives you more knowledge about your business and the information your competitors provide.
You can stay up to date on case studies, trends, news, and other information necessary to stay one step ahead of other companies. The last thing you want is to create content no one wants to read. Your blog is the tool you need to improve your marketing strategies. You ensure your content is fresh by staying relevant in a constantly changing industry.
Speak to an Experienced Outsourcing Professional Today
Peak Outsourcing has provided comprehensive business process outsourcing solutions to businesses since 2011. We offer the services you need to reach your target audience and improve your conversation rate. When you hire our team, we will thoroughly research your industry to create competitive content and help grow your business.
Related Posts: