A blog consists of various posts with information related to the blog's main topic. Each post contains keywords that improve a website's ranking on search engine pages. Incorporating the appropriate keywords allows a company's website to reach a wider audience, increasing the number of potential customers.
You can engage with your audience by frequently updating your blogs with news stories, industry developments, and other relevant posts. Blogs also allow you to communicate with your readers in the comments section. You can review what people say and whether anyone shares your posts on their social media platforms. 
By creating or restructuring your company's blog, you get your product or service in front of more people and improve the chances of growing your business. Blogging for businesses is important because it helps you talk to more people, tell them about what you do, and get more customers.
Why You Need a Blog for Your Business
A blog is a valuable asset for any company for many reasons. Read on to learn more.
Increase Online Traffic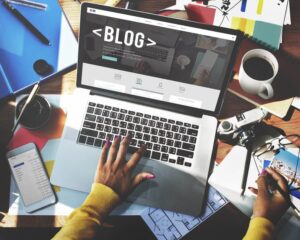 Traffic is a headache when you're driving. However, online traffic is beneficial for marketing purposes. Increasing traffic to your website allows you to communicate necessary information to potential customers and turn them into leads. When the leads turn into paid customers, those individuals talk about your brand with other people. You can gain new customers by word-of-mouth, which costs you nothing.
Instead of running paid advertisements or spending money on an email list to drive traffic to your site, your blogs can do the hard work for you. You don't have to do anything other than update them consistently to discuss what your target audience wants to know and remain relevant in your industry.
Grow Social Media Engagement
You can engage with existing and new audiences by utilizing multiple social media platforms. Instagram, Twitter, and other platforms allow people to interact with each other by commenting, liking, and sharing content.
Sharing your blog through social media is simple. It also generates new content for your platforms. Instead of creating different content for your blog, Facebook, and Instagram, you can share your original blog post among all platforms your company uses.
Convert Traffic into Leads
Turning potential customers into viable leads requires incorporating a call to action (CTA) in each blog post. A CTA informs readers how to reach out to the company for more information.
Including your phone number, email address, or online form in the CTA prevents the reader from searching for your contact information. You can also include a hyperlink within a keyword or your company's name to bring leads to your website.
Establish Authority in the Industry
You must create and share content consistently when you blog for your business. Your posts should always include answers to your customers' and potential leads' questions. Your audience will view you as a leader and authority in the industry if you answer their common questions.
When people browse the internet, they feel comfortable with companies that provide the information they seek. They believe you can guide them on the services or products they need. Potential customers also gain more knowledge about your business because they know where to go when they have questions.
Build Backlinks
Backlinks are crucial in improving your ranking on Google. You don't include them on your website. Instead, other companies link to your website within their content. It increases your search engine rankings and gets your brand in front of more people.
When backlinks for your business appear on other sites, it shows your value. Visitors are more likely to click on the links and look at your blog. Readers might feel they can trust you, knowing that other companies value your content enough to share it.
Create Personal Connections
A blog can humanize a company. Your audience can click on your website anytime for easily accessible stories, news, and other information. It creates brand awareness and fosters personal relationships with readers.
You can connect with prospective customers by including topics such as:
Case studies

Stories about new employees

Behind-the-scenes moments at work

Interviews with industry experts

Information for upcoming trade shows or company-sponsored events
Produce Long-Term Results
Blogs can help a business grow. From the first post, you might gain significant views and leads. You should gain traction by posting engaging content regularly and sharing each post on social media.
At some point, readership and views might decrease. However, it doesn't mean the blog isn't benefiting your business. It can continue gaining new readers by remaining at the top of search engine results. Loyal customers might share your posts with others, increasing your audience and leads.
Learn More About Blogging by Contacting Peak Outsourcing Now
Blogging is an excellent tool if you use it correctly. You must follow the necessary steps to optimize your page with SEO keywords and phrases. Sharing your content across multiple social media platforms also casts a wider net for more people to see the information you put out there.
Our team at Peak Outsourcing is ready to offer our outsourcing services to you as soon as you are ready. Contact us today to learn more about how our blogging team can help your business grow. 
Related Posts: