Image is everything. In an instant, potential customers judge your business simply by looking at your website. Eye-catching design, compelling graphics, and a solid color palette can positively influence the overall impression of your brand and generate interest in your company. A weak web design can turn potential customers off and create a negative perception of your company. This image can encourage potentially negative feedback and customer interactions.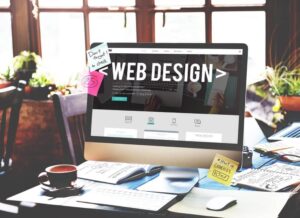 Web design can make or break your business. Web credibility studies show that 75 percent of web users admit to making judgments about a business's credibility based on its website design. First impressions count. If your website makes the wrong statement, it can damage your ability to build positive relationships with your customer base.
In today's highly competitive digital marketplace, cut-and-paste stock graphics do not cut it. Your business needs to focus on creating a unique web design that stands out and will get your business noticed. Unfortunately, in-house graphic artists can be expensive, making outsourcing your web design a good idea.
Why is Good Web Design Important?
The look and design of your website are a potential customer's first glimpses into your business. Research indicates it takes only 50 milliseconds for users to form an opinion about your business. This first impression generally leaves a lasting imprint on a person. A positive impression helps generate brand loyalty, while a poor impression can drive a potential customer away for good.
Sloppy graphics, difficult-to-read fonts, or hard-to-see buttons are a turn-off. If a website has weak design elements, users will navigate elsewhere and fail to consume the content on your site. Ultimately, you can have strong content but fail to generate excitement for your brand.
What Does Good Web Design Look Like?
Beauty is subjective. However, universal design elements help build a cohesive look and feel. Color, shape, and size combine to create a sort of visual language. You may not understand why something looks visually appealing, but in your brain, these elements work together to create symmetry and structure, making an aesthetically pleasing web design.
Good web design will factor in font, color, animation, high-quality graphics, and easy navigation. These elements must work together to create a responsive design across multiple platforms and devices. While online tools have helped simplify the web design process, their cookie-cutter approach means your website may not have the punch to stand out in a crowded field of online competitors.
Why Your Business Needs Good Web Design
A cohesive web design boosts your credibility and brand loyalty. It also builds consumer trust. It can also lead to an increase in time on a page, decrease your bounce rate, and potentially bolster your conversion rates. A strong and cohesive web design can make it easier for potential customers to navigate your online space.
When buttons are hard to see, there is no clear call to action, or the color palette is muddy, it can be challenging for web users to find what they are searching for. The more time it takes for a user to get the information they need, the more likely they will be to leave your site and get their needs met somewhere else.
A simple, easy-to-navigate platform makes it more convenient for users to decide where to go. When finding information is seamless, users will stay engaged with your page longer. Good design also draws the eye to specific focal points, drawing attention to elements that drive users to take the actions you want them to take.
Finally, compelling web design builds trust and loyalty. You want to appear knowledgeable, professional, and legitimate. Good web design should reflect your values and image. Powerful design elements can reassure users that they are in the right place and have found a brand conscious of their interests and goals.
Consider Outsourcing Your Company's Web Design with Peak Outsourcing
Graphic designers are in demand. Because of this, hiring your own in-house graphic designer is costly. Thanks to the many outsourcing services offered by Peak Outsourcing, you can save money and increase profitability by outsourcing your web design. We can tailor web design solutions to your specific needs, helping you to draw customers to your website and your business.
Ready to discuss your web design needs? Contact us today. Our team wants to help you create a website that boosts your business.
Related Posts: