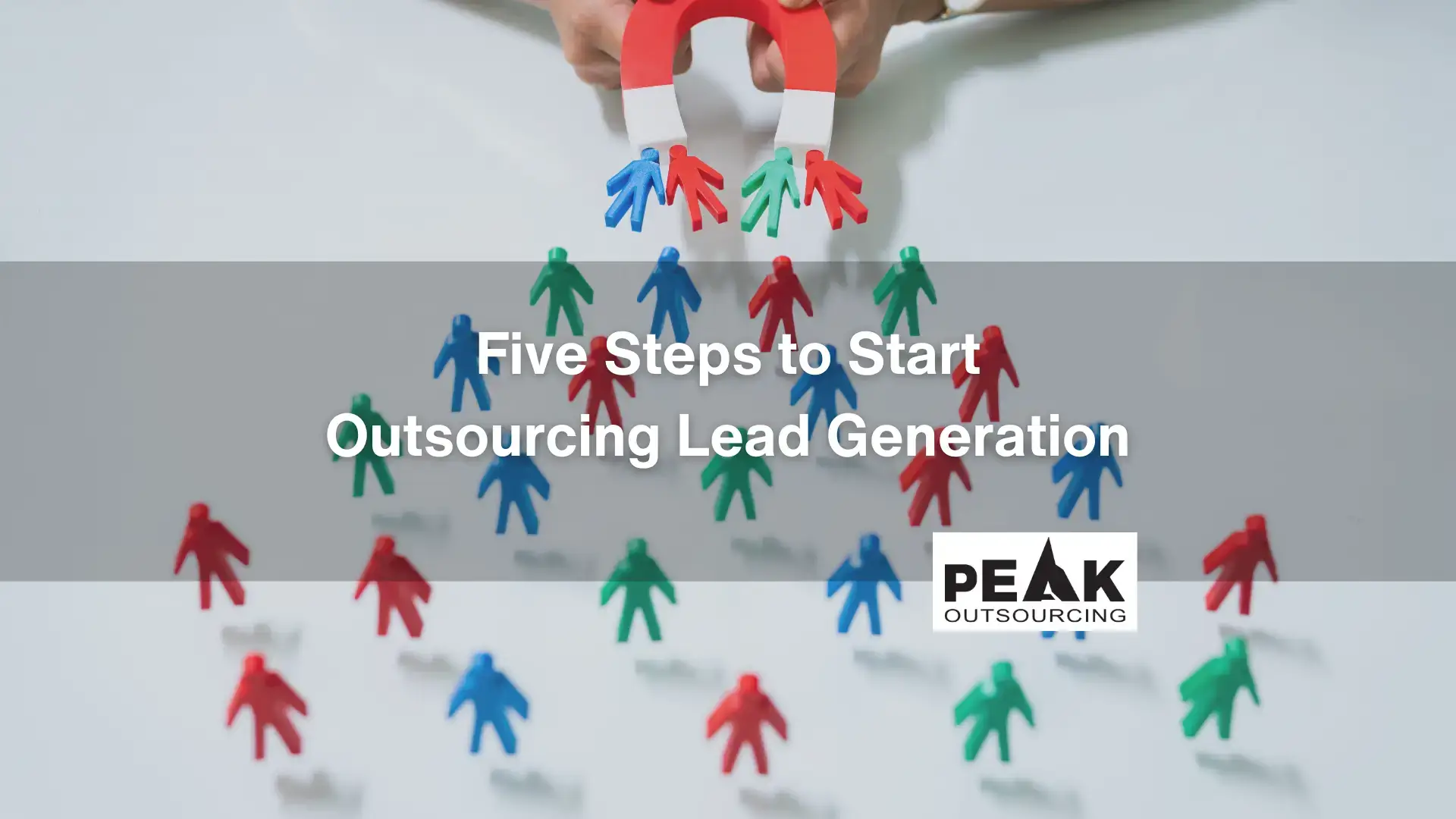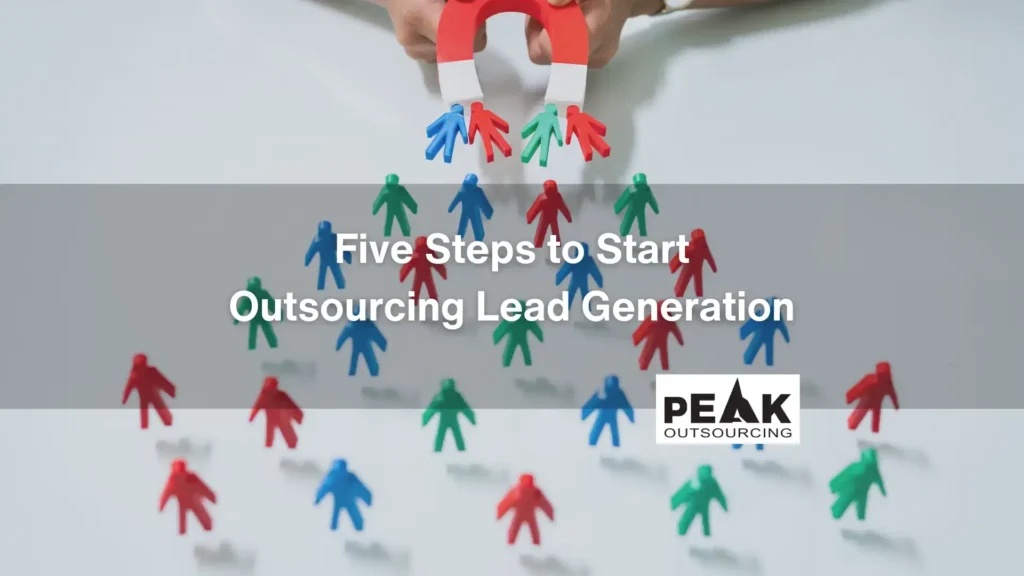 What tends to be the most tedious, time-consuming, and challenging part of the sales process? The answer is almost always lead generation. Lead generation involves identifying and qualifying potential customers and converting them into paying customers. Quality leads will most likely move through the sales funnel and become paying customers. Outsourcing lead generation can save you time and money, creating a more effective sales funnel and allowing your in-house team to focus on what makes your business work. Outsourcing lead generation may help improve the flow and functionality of your team, allowing your business to grow and flourish.
At Peak Outsourcing, we have five steps to help you understand the starting process of how to outsource lead generation today and make it work for your business.
What Does It Mean to Outsource Lead Generation?
Outsourcing lead generation removes that burden from the shoulders of your in-house staff. Instead, you outsource the work to a qualified third party that can identify potential leads, qualify them based on your predetermined criteria, and nurture them through the sales funnel process until they are ready to convert into paying customers.
The following are steps to take to outsource your lead generation.
#1 Define Your Goals and Set Realistic Expectations
Identifying and qualifying leads takes knowledge and experience. Outsourcing lead generation makes financial sense, but only if you are willing to define your goals and set reasonable expectations. What do you want a lead generation service to help you improve? Do you want to increase the number of qualified leads or improve conversion rates? Are you more concerned with reducing the cost you spend per lead or increasing your overall revenue?
Defining your goals from the beginning and outlining what you expect from a lead generation service means your outsourced team clearly understands your objectives and has measurable goals to strive for. It also gives you the means to measure the success of any lead generation service.
#2 Define Your Ideal Customer
You must thoroughly understand the profile of the ideal customer you want to attract to your business. Understanding your basic market segmentation and ideal buyer persona can give your lead generation service a leg up, allowing them to flesh out customer profiles and provide you with qualified leads ready to convert to paying customers. No one knows your business and your customers better than you. Providing a lead generation service with valuable customer data and profile information helps them find the best possible prospects for your business. A knowledgeable and experienced lead generation service understands the importance of ideal customer profiles. They can use the information you provide to find your customers where they reside in the consumer space.
#3 Do Your Due Diligence
Not all lead generation companies are the same. Some have the knowledge and marketing background to provide high-quality leads primed for conversion. Others take your money and promise results with little to no information about the services they provide or the marketing experience they bring.
Do your research and ask questions. Carefully vet any outsourcing provider to ensure they have experience in your area of expertise. Ask for referrals, investigate the company's past success stories, and ensure they have a reputable digital footprint. Hiring a professional lead generation service can save you time and money. Hiring a less-than-reliable lead generation service wastes your valuable time and resources.
Ask questions about data collection abilities, their lead generation process, and the key metrics they use to measure success. Treat this like you would any new employee interview.
#4 Focus on Building a Strong Brand and Message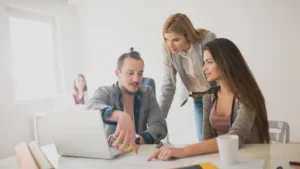 Finding quality leads happens when you have a strong foundation to build from. That means establishing your brand image and building strong customer relationships. Your in-house team should focus on establishing a clear message, finding unique selling points, building a unified brand, and demonstrating a solid purpose.
This information can help your lead generation team produce high-quality leads and keep current customers returning to your business. A strong foundation means your lead generation team can help you grow your business in new ways.
#5 Don't Take a Backseat
Outsourcing your lead generation doesn't mean you can wash your hands of the entire sales funnel process. Take the time to review the results from the lead generation service and provide constant feedback. Positive interactions with your lead generation vendor mean you can identify areas of improvement, adjust your marketing strategy, and recognize potential changes in your ideal customer profile.
Measuring key performance indicators regularly and providing feedback allows you to help in- and out-of-office teams be more successful. 
A Unique Outsourcing Approach from Peak Outsourcing
Ready to see what outsourcing lead generation can do for your business? Talk to the trusted professionals at Peak Outsourcing today for more information by contacting us online or by calling us at 1-866-796-0810. We want to help you save time and money while achieving rapid results through our lead generation outsourcing services.
Related Reading: