Addressing IT problems can divert valuable time and resources away from the smooth operation of your business. While technology is a wonder when it is working, it is a financial drain and a source of frustration when problems arise. Employing an in-house team of IT professionals can be expensive and out of reach for many smaller businesses just starting to get a foothold in the marketplace. Are you in search of how to solve IT problems for your company once and for all? Outsourcing your IT headaches may be the answer you've been searching for, and the professionals at Peak Outsourcing can help. Our wide range of BPO services is here to help your business grow.
How IT Problems Can Hurt Your Business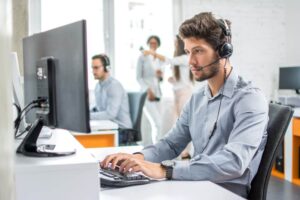 There is no question that to run a successful business today; you need the help of technology. Unfortunately, technology isn't always foolproof. Sometimes IT problems can get in the way of running an efficient business.
IT problems range from Internet service outages to software glitches and security breaches. Taking the time to fix these problems can chip away your company's resources and productivity, leaving you struggling to remain competitive. IT problems may even impact your customers and hurt your brand's reputation. Addressing IT issues proactively and responsively can help you streamline your business and stay ahead of the competition.
If your business depends on technology, it may be tempting to build an in-house IT team to troubleshoot your technological woes. However, creating a knowledgeable and experienced IT team from the ground up is challenging and costly. Outsourcing IT is one solution that can help you tackle some of the most common IT problems.
Common IT Issues and How Outsourcing Can Help
Even though every business is different, some commonalities exist in the IT issues companies encounter.
Outdated Equipment and Software
One of the most common IT issues businesses face is working with outdated technology and software. Technology is constantly evolving. Often, it can feel like technology is outpacing your ability to keep up with new workplace trends. Investing in the latest innovations is expensive, especially when something better is already on the horizon. Unfortunately, working with outdated equipment or software can also cost your company money in the form of glitches, security problems, and maintenance expenses.
Outsourcing to a knowledgeable team of IT professionals means your business is always up to date on the latest trends. Outsourcing professionals have the skills to work with complex new technology and integrate these features into your existing network. You remain on the cutting edge of innovation without paying for training.
Data Loss and Recovery
Another common IT setback that plagues businesses is data loss. Power outages, cyber-attacks, human error, and equipment failure can result in losing vital data you need to keep your business running. Retrieving lost data can cost companies thousands of dollars. It can also cripple productivity and lead to a loss of consumer confidence.
A professional, outsourced IT team can help you weather the storm by preparing a data recovery plan and handling the issue of how to solve IT problems for you. Cloud-based data backup systems can prevent the loss of sensitive company information. Additionally, an off-site IT team can keep your data safe if something happens to your physical location, like a fire or flood.
Unreliable Internet Service or Connectivity Issue
When the Internet works, it can connect you to customers and clients around the globe. When it doesn't work, your business is left in the dark and cannot function as intended. Internet connection issues, slow internet speed, and bandwidth limitations can hurt your business. When you can't count on your Internet Service Provider, your customers can't count on you.
Outsourcing IT can help keep your business running, despite internal hardware limitations or internet congestion. You get trustworthy service and advice from a team of IT professionals.
Peak Outsourcing Offers a Unique Approach to IT Problems
When an IT problem arises, you need immediate solutions. Outsourcing IT means you get immediate and responsive service from a team of highly trained professionals. It also means you get proactive IT support for your business. Instead of wasting time and money wondering how to solve IT problems and fixing them, an outsourced IT team can help monitor your technology, helping you detect minor issues before they become major headaches.
You don't have to waste resources training an elite team of IT professionals. You can outsource the job, saving you time and money. Want more information on how outsourcing IT can put a global network of top-tier talent to work for you? Contact Peak Outsourcing today. Let our team help you get in touch with IT professionals that can take your business to the next level.
Related Posts: