Customer service is an essential part of any company's success. The relationships between customers and support staff can lead to long-term loyalty and revenue. However, hiring and training a team of professionals to communicate with your customers can be challenging. It also costs money. By outsourcing your business's customer service department, you save time and cut down on business expenses. Instead of spending money on an in-house support team, you can allocate your budget elsewhere.
Why Outsourcing Customer Service Is More Cost-Effective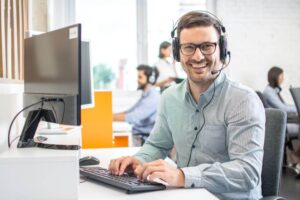 Typically, internal call center agents receive hourly or salary pay when employed by a business. Their income might include productive and unproductive time, meaning companies compensate their support staff for taking breaks, eating lunch, or making a cup of coffee.
Hiring an in-house customer service team also requires training, management, HR, equipment, and other expenses. Spending money on building and maintaining another department prevents the budget from benefitting other aspects of the business.
Outsourcing a call center cuts costs for companies because the outsourcing provider handles them. You can direct the money you save to product development, marketing strategies, and expanding your business.
Benefits of Outsourcing Your Customer Service Specialists
Outsourcing your customer service team offers a range of benefits. The most common are listed below.
Fewer Employees to Pay
As a business owner, you pay your employees for their work. You must also spend money on employee benefits and payroll taxes. Although you might think hiring an in-house team is necessary, taking on the additional expenses can be risky.
Outsourcing your team for customer service means you pay once for a service package. The price includes training, pay for the professionals, and other costs. You don't have to provide employee benefits, such as medical insurance and paid time off. 
Fewer Working Spaces
Bigger office spaces are necessary to accommodate more employees. Business owners might need to add more offices to their current space, rent a new one, or find a secondary location for their business.
You can avoid these extra costs by outsourcing. Your new customer service team has an already-established area to do their work. You don't have to pay to expand your offices or find a building with the space you need.
Fewer Equipment and Utility Expenses
A customer service team needs specific equipment to perform their work, such as:
Laptops or desktops

Call recording software

Desks and chairs

Headsets and microphones

Automated dialing software

Voice Over Internet Protocol (VOIP)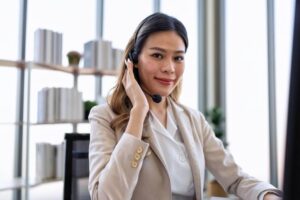 Your business will likely consume more energy if you run additional machines, such as computers, leading to a higher electric bill. You might also need to upgrade the infrastructure of your IT department to accommodate new servers.
You save on the cost of equipment and utilities when you outsource your customer service specialists. You don't have to provide the furniture, software, or equipment the team needs.
How to Outsource Customer Service Correctly
You must consider multiple factors when entering a partnership with an outsourcing company. You're not done after choosing a service package and paying the fee. If you want your outsourced customer service department to run smoothly, you must inform your outsourcing partner of your needs, such as:
Company objectives – Advise your outsourcing partner of your long-term goals. Whether you want to reduce expenses or increase in-house staff productivity, communicate those goals. Your partner should know your objectives so that they can deliver.

Working hours –You should determine whether your customer service team should operate during regular business hours or 24 hours a day, seven days a week. A 24/7 call center allows customers to speak to someone whenever they want. It might give you a leg up on the competition. You can ensure specialists answer your customers' calls while your competitors are asleep.

Training – A significant cost of hiring internal customer service staff is training. You don't have to take time away from your busy schedule to train your new employees. However, you should discuss your customer demographics, business culture, and other relevant information with your outsourcing partner. Creating a set of guidelines ensures your outsourcing team meets your standards while interacting with your customers.

Open communication – Maintaining ongoing communication is essential in any relationship. Your outsourcing partner should hear about your concerns and recommendations. If you receive customer complaints, let your partner know so they can adjust their procedures. You should also inform them of changes to your services, product line, company policies, and other information that affects your business.
Interested in Outsourced Customer Service? Contact Us Now
At Peak Outsourcing, we provide outsourced customer services to businesses of all sizes. Our cost-effective options will allow you to use your money more wisely. Our team aims to reduce your workload, so you're free to grow your company.
Related Posts: