You and your employees know your business inside and out. So why would you turn to outsourced tech support? How could someone else possibly know what is important to you and your customers and help them through their technical difficulties?
Believe it or not, outsourcing your tech support can help you grow your business and resolve customer issues more efficiently, letting you and your employees focus on the core of your business model. The professionals at Peak Outsourcing want to give you three reasons why outsourcing your tech support is the way to go.
Round-the-Clock Tech Support 
Your partners and customers live and work across different time zones. When they need help, they expect immediate solutions. Unfortunately, problems don't just crop up during traditional business hours. A technical issue can arise at any time. Wouldn't it be nice to offer your customers or business partners 24/7 technical support? 
Outsourcing your tech support means your customers can reach you when it is convenient for them. Additionally, you do not need to house a fully staffed, round-the-clock tech department to offer clients the assistance they need. You save money while enhancing the value you provide for your clients and customers. They know they can count on you when they need you. You know you can count on your outsourced tech support team to have your back when you need them.
A Pool of Dedicated and Highly Trained Professionals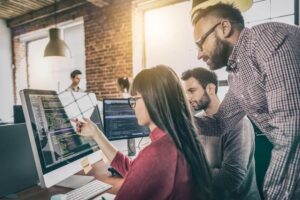 When you outsource your tech support to a trusted team, you give your customers and clients access to a global pool of top-notch talent. Dedicated agents specializing in all areas of technical support can help resolve your customer's issues, answer questions, and address their concerns. You do not have to spend time and money training your team to manage the ins and outs of tech support.
Highly trained tech support professionals can also take advantage of the latest technical data and innovations you may not have access to yet. It can be challenging for a business to stay abreast of all the changes in the technological landscape. When you outsource your tech support to a dedicated team, you can feel confident that these people have access to the latest developments in the industry and the training they need to embrace change as it happens.
A well-trained tech support team can monitor and protect your data and offer better security options. You can feel secure knowing your information and your customer's data stays private.
Increase Productivity While Saving You Time and Money 
Navigating technical issues can cause disruptions and interfere with your productivity. Cutting into productivity takes the focus away from your company's core business and leads to wasted time and resources. Outsourcing tech support means you have more time to focus on your business model, and your employees can stop constantly dealing with setbacks or interruptions. When your team can target their objectives without distractions, they become more efficient and less stressed.
Outsourcing technical support also increases productivity by addressing quality issues. You and your team are responsible for delivering high-quality products or services to the people who count on you. Your resources need to be devoted to your product. That way, you can continue to deliver what your customers expect. That is what you do best. A dedicated, outsourced tech support team lets you focus on work solutions, not technical problems. That is what they do best. You are utilizing the talents of your team to grow your business while taking advantage of the talents of an outside tech support team to support that growth.
The Peak Outsourcing Difference 
Savvy business owners and entrepreneurs know what their clients want: a quality product and a responsive team to help them make the most of that product. It takes hard work and dedication to build a successful business. One misstep or bad customer experience can jeopardize everything you've worked to build. By outsourcing tech support, you are giving yourself a leg-up on the competition. You reap the benefits of a stable, quality, tech support team while you and your employees continue to innovate and grow.
At Peak Outsourcing, we give you the power to expand and grow by offering you the tools and services you need to take your business to the next level. Stop struggling to keep up with tech support demand and ever-evolving technology. Let our team create a customized outsourcing solution that removes the roadblocks to your continued success. Contact our BPO specialists today.
Related Posts: