Outsourcing has become an essential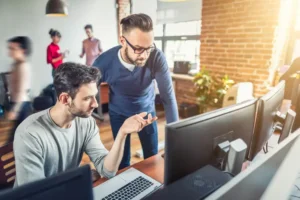 part of doing business in today's globalized economy. However, with a multitude of outsourcing providers available, finding the right one for your business needs can be challenging. To illustrate, in this blog post, we'll share five steps to help you hire the right business process outsourcing company for your business.
Steps to Hiring the Right Outsourcing Company
Especially if you are new to outsourcing, you may be unsure of what to look for in a provider. Hence, consider these steps when looking for an outsourcing company to suit your requirements.
Identify Your Business Needs – Before you start searching for an outsourcing provider, you need to know what your company needs. What specific services do you need? What are your budget and timeline? What are your quality standards? Having a clear understanding of your business needs will help you find an outsourcing company that can meet your expectations.
Research Potential Providers – Once you've identified your business needs, it's time to start researching potential outsourcing providers. Look for companies that have experience in your industry, offer the services you need, and have a track record of delivering high-quality services. Check their website, read online reviews, and ask for referrals from your network.
Evaluate Provider's Vetting and Hiring Process – One of the most crucial factors to consider when hiring an outsourcing company is their vetting and hiring process. Find out how they recruit, screen, and train their agents. Do they have a rigorous process for selecting the right candidates? Do they provide ongoing training and development to their agents? A reliable outsourcing provider should have a world-class vetting and hiring process to ensure they're working with the best talent.
Assess the Provider's Communication and Collaboration Skills – Good communication and collaboration are essential for a successful outsourcing partnership. Find out how the provider communicates with clients and manages projects. Do they have a project management system in place? Do they provide regular reports and updates? A reliable outsourcing provider should be responsive, transparent, and collaborative.
Evaluate the Provider's Service Level Agreement (SLA) – The Service Level Agreement (SLA) is a critical document that outlines the scope of services, performance standards, and responsibilities of both parties. Make sure you review the SLA carefully and ask questions if there's anything you don't understand. A reliable outsourcing provider should be willing to customize their SLA to meet your specific needs and expectations.
Why Our People Make Us Different: The Peak Outsourcing Advantage
At Peak Outsourcing, we understand that the decision to outsource tasks can be daunting. After all, your business operations are on the line, and you need to be sure that the provider you choose can deliver high-quality services consistently. That's why we focus on our people, ensuring we have the best team to support your business needs.
Our agents are the backbone of our operations. Indeed, we know that they are the most important part of a successful relationship. That's why we go to great lengths in our hiring process to ensure that we're working with trustworthy, agile, courageous, and passionate people. We believe that these qualities are essential for delivering top-notch outsourcing services.
Furthermore, our recruiting team has developed a world-class vetting process that allows us to find the best candidates for the task at hand. We look for people who are qualified for the job and have the right mindset and attitude to succeed in a fast-paced and dynamic outsourcing environment.
After identifying the right candidates, we invest in their training and development to ensure they have the skills and knowledge to support your business operations. Our agents receive ongoing training to stay up-to-date with the latest technologies and best practices in the industry. We also provide them with the necessary tools and resources to deliver high-quality services consistently.
At Peak Outsourcing, our people make us different. In particular, by focusing on hiring and developing the best team in the business, we can deliver top-notch outsourcing services that help our clients achieve their business goals. If you're looking for a reliable outsourcing partner that puts people first, look no further than Peak Outsourcing. Contact us today to learn more about how we can help your business thrive.
Contact Peak Outsourcing to Discuss Your Business Needs
Outsourcing can be a game-changer for your business, but only if you choose the right outsourcing company. By following these five steps, you can find a dependable outsourcing provider to help you achieve your business goals. If you're looking for a trusted outsourcing partner, consider Peak Outsourcing. To sum up, our rigorous vetting and hiring process, excellent communication and collaboration skills, and customizable SLA make us the right choice for your business needs. Contact us today to learn more.
Related Posts: