Keeping up your company's blog is far from easy. However, a business's blog often serves as one of the first points of contact for business prospects. Writing effective content requires in-depth research, SEO analytics, strategy, and cross-platform promotion, among other things. With so many other needs coming up in day-to-day operations, it's no wonder that company blogs often go neglected.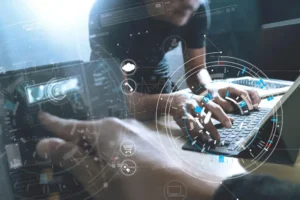 According to data from SEMrush, a whopping 86% of marketers incorporate blog posts in their comprehensive marketing strategies. If you're struggling to maintain your company blog, it might be time to outsource blog writing. Doing this could help you meet deadlines, save money, and improve your rankings in the SERPs (Search Engine Results Pages), among many other things.
#1: Time Constraints
The benefits of blogging are clear. According to data from HubSpot, companies that publish at least 16 blog posts every month generate more than four times the leads of companies that don't. If you're like many other small business owners, you and your staff simply don't have the time to write 16 unique blog posts each month. But an outsourcing company does.
#2: Lack of In-House Expertise
Lead generation isn't automatic, and you won't necessarily increase your numbers by posting just anything. You'll need to have staff that are well-versed in things like social media promotion and cross-linking, search engine optimization, email marketing, PPC (pay-per-click) advertising, and more. An outsourcing company can work with you to create a comprehensive strategy that meets your needs, whether your focus is on lead generation, increased sales, improved brand recognition, or all of the above.
#3: Difficulty in Finding Quality Writers
Not all marketers are the same, and some that are excellent with analytics and media buys might not have the skill set needed to do well at blog writing. Instead of hiring one marketer to be a jack of all trades and consequently having to pay their salary, benefits, vacation time, and training, you can pay a flat monthly fee to access a team of marketers that can cover your needs.
#4: Limited Budget
By the time you've budgeted for overhead and operating expenses, you'll likely have little left over for marketing, and what you do have might be focused on PPC ads and the like. By outsourcing your blog content, you'll pay less than you would in both time and salary to do that in-house.
#5: Need for Consistency
We all have knowledge gaps, which can be apparent when writing blog content. Even if you're a subject matter expert in your field, keeping up a certain quality standard can be challenging. This is especially true when you're shooting for 16 blog posts a month and also need to manage day-to-day operations.
#6: Difficulty in Meeting Deadlines In-House
Marketers need to create dynamic and compelling content. They also need to publish and distribute it, promote it, and ensure that it helps the company meet its goals. Within each larger task, you have many other subtasks to take care of. In blogging alone, you need to take care of writing, editing, SEO optimization, scheduling, and promotion after the fact. If you're overwhelmed and having difficulties meeting deadlines, it might be time to outsource.
#7: High Turnover Rate of In-House Writing Team
When you lose an in-house writer, you don't just lose their monthly capacity. You also lose their subject matter expertise and experience writing for your brand. You also lose all the time and money you spent on training them. If turnover is an issue and you're regularly starting fresh with new writers, working with an outsourcing company might be better.
#8: Difficulty in Keeping Up with Trends
If you want to attract more leads and convert them, your blog title needs to be:
Short and succinct
Specific to the reader's needs
Interesting enough to make people want to click (without relying on spammy tactics)
Targeted to the prospects you're looking to attract
Optimized for search engines
On top of that, you'll need to keep up with trends to craft timely content that meets needs. These are all things outsourced talent can handle for you.
#9: Multi-Skilled Team of Outsourced Bloggers
You need a team to handle your marketing needs, from content creation to social media promotion, paid ads, and more. This would be cost-prohibitive in-house but may not be when you outsource your blog content.
Peak Outsourcing Can Help
Are you overwhelmed and ready for some help? The experts in business process outsourcing from Peak Outsourcing are here for you. Call our team today at (833) 831-7325 or contact us online to get started. Our results speak for themselves!
Related Posts: